We are storytellers focused on making an impact for cancer survivors, their families, friends and communities.
Catch It In Time is not like any other non-profit you know. We are a passionate team on a mission to creatively raise awareness about the early detection of cancer. What makes us different? We aren't doctors or medical professionals. Our team leverages extensive backgrounds in video production, marketing, digital communications and PR to make cancer part of your every day conversations.
We distribute inspiring survivor stories across a broad network of partners to drive awareness about cancer and the cutting-edge treatment options available today. Your 501(c)(3) tax deductible donation supports these distribution efforts and helps us engage the community in exciting new ways.
We have more than 8 million unique page views on our stories. Help us keep shining light on cancer awareness.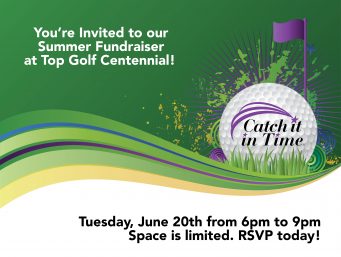 Join us on Tuesday, June 20, 2017 from 6pm to 9pm for our Summer Fundraiser at Top Golf Centennial. We'll be swinging the night away with food, drinks and fun! Spots are limited to just 20 golfers, so make sure to RSVP for your tickets today. We're so excited to celebrate with you at one of Denver's hottest spots... All proceeds from this event benefit Catch It In Time in our mission to spread awareness for the early detection of cancer in new and creative ways. Learn more about how your donation helps our cause by attending the event. See you there!
The Catch It In Time Video Challenge 2017
We are partnering with the Colorado Film Commission for the first-ever Catch It In Time Cancer Awareness Video Challenge. College and university students from around the state are invited to participate in a friendly competition… spreading the message of cancer awareness to their peers through video. Learn more about the challenge here.